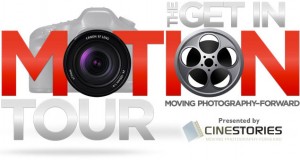 Tuesday, September 27, 2011
6:00 – 10:30 p.m.
Theatre Charlotte
501 Queens Rd, Charlotte NC 28207
Tickets: $49 – Register Now!
APA Members: Get Your Discount Code
Log in and go to Member Discounts
The Get In Motion Tour is a Call-To-Action for photographers everywhere to use their artistic talent, training, and equipment to also make moving images. You will learn the fundamental principles of filmmaking as we show examples of specific products you can make right now with tools you already have. We will teach you how to make each of the films shown above, and in the process, will cover filmmaking techniques, what gear is necessary, and how to use it.
Filmmaking is here to stay, and you will inevitably come into contact with it. Whether you make films yourself for your clients, or you hire someone else to make them, a good knowledge of the fundamental principles will allow you to contribute to the final finished film, the filmmaking process, and to assist your clients in meeting their needs for these products.
---
This event is sponsored by APA Charlotte